E
ELLE Green Issues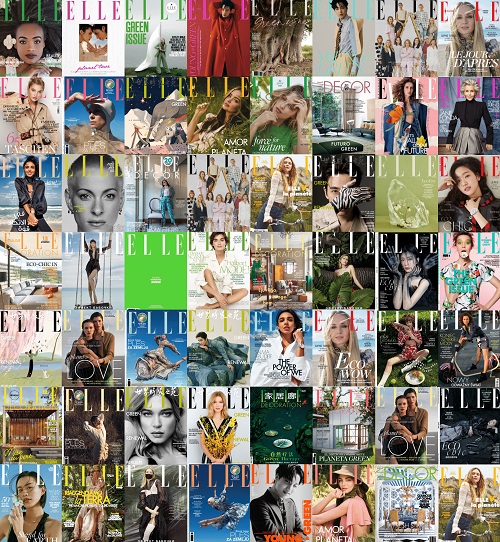 The ELLE brand celebrates Earth Day with a "Green" Issue in more than 30 countries

ELLE International Covid-19 Update
See More
P
Piaget
CHASE YOUR PASSION
Piaget's Possession and Limelight Gala collections are crafted with extraordinary savoir-faire and a passion for women who control their own destiny. Passion will be the key element to retranslate the essence of the Maison Piaget. We created 4 films, to meet with 4 cosmopolitan and authentic women who make their passion their priority in life, shining a light on Piaget's creations.
Through this series of co-branded films, ELLE takes advantage of being fully immersed in the lives of each woman to highlight the design, refinement and femininity of Piaget jewellery.
D
Dior
ELLE x DIOR
By leveraging on ELLE's styling expertise, we showcased the Lady Dior's way to be endlessly interpreted, to inspire different trends and yet remain timeless, in order to be an eternal must-have for all women.
We followed 4 different ELLE ladies crossing paths through the city avenues with the aim of illustrating "a day in their life".
We showed how through the styling versatility of the Lady Dior each young woman can express her individuality from work meetings to late night parties.
ELLE created for DIOR a story of complicity and glamour, thus maximizing engagement with luxury millennials.
S
Sofitel
'LIVE THE FRENCH WAY' WITH SOFITEL
ELLE created a digital campaign to position the French luxury hotel chain Sofitel as an ambassador of modern French 'Art de Vivre' around the world. Through an immersive ELLE article offering French-inspired lifestyle tips, and a series of films, three ELLE women shared how they 'Live The French Way' wherever they are, inspired by the allure of French style that Sofitel embodies.
B
Balmain
HOW TO BE A BALMAIN GIRL
To focus on the signature style threaded through Balmain's fall 2019 handbag line, we produced a unique article based on the concept "How to be a Balmain girl".
The photoshoot by Chris Schoonover in the chic street of NYC highlighted Balmain's latest handbag.
L
Laurent Perrier
THE 7 DOS AND DON'TS OF CHAMPAGNE
To focus on the unique know-how of Laurent-Perrier, we produced a unique print and digital article relying on the tips of a Laurent-Perrier champagne expert.
C
Calvin Klein Watches & Jewelry
"THE BEAUTY OF FIRSTS"
First times make us who we are, and it's never too late to incorporate them into our life.
To raise awareness of the new CK Watches & Jewelry campaign No Time Like The First, we shared portraits of 4 ELLE women who each expressed their individual talent and shared their most important first time.
See More
J
Japan National Tourism Organization
Travel is a language that speaks consistently and internationally within the ELLE audience.
Showcasing our expertise in travel guides, we created a tailor-made 100% print programme for a culinary and relaxing experience in Japan.
See More
L
Louis Vuitton
"A DROP, AN EMOTION"
The ELLE x Louis Vuitton campaign was created to raise the profile of 9 unique fragrances. We decided to give each of them a visual expression by giving life to the feelings it provokes.
See More
H
Honor
CITY DIARY
Drawing on ELLE's Lifestyle pillar and on our reader's interest for digital creativity and innovation, we created content on how to take the perfect holiday Instagram photo.
See More
C
Chopard
MODERN ICE CUBE
Relying on the ELLE tone and style endorsement, we created a digital campaign to drive engagement, create visibility and increase awareness of the Ice Cube collection.
See More
R
Rado
"ONE WATCH. INFINITE STYLES."
For this second ELLE collaboration, Rado aimed to increase their brand awareness through ELLE's fashion and style expertise.
See More
S
Swarovski
"REMIX YOUR STYLE"
Swarovski wanted to present their new Remix collection and demonstrate the jewellery's functionality to millennials.
See More
C
Caudalie
ELLE BEAUTY TEST
Readers' voice is our most valuable asset, that's why we created a campaign with a goal of demonstrating the efficiency of Caudalie's Vinoperfect products through recruiting brand ambassadors among our audience.
See More
L
La Prairie
ALPINE TREASURE BEAUTY SUPPLEMENT
Leveraging on the ELLE beauty know-how, a 12-page branded content booklet insert was created to promote three new La Prairie products.
See More