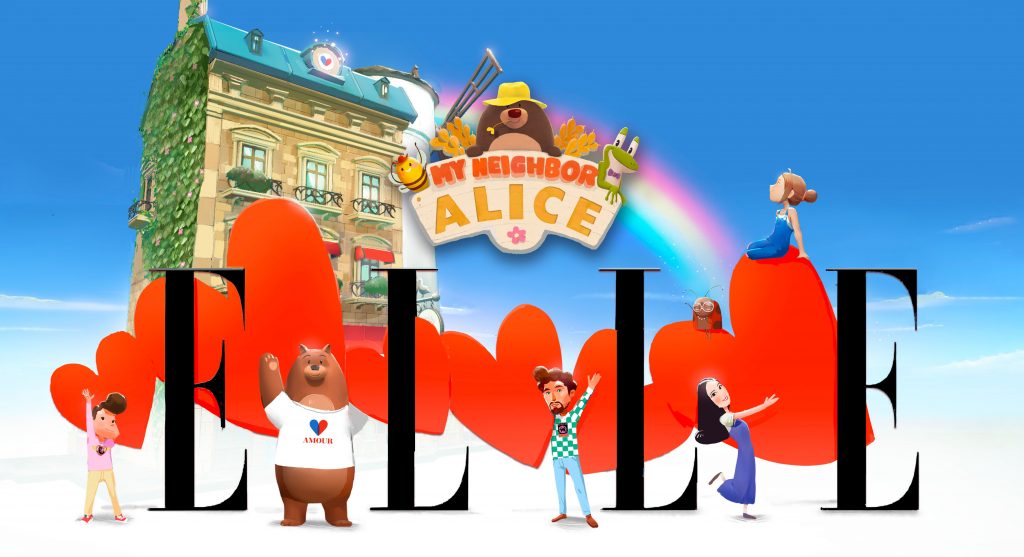 The ELLE brand launches into the metaverse with the "My Neighbor Alice" game
ELLE, the world's leading fashion and lifestyle media brand, announces its launch in the metaverse and on Web3, becoming the first brand partner of the game "My Neighbor Alice", developed by the company Chromaway.
The ELLE brand already offers a wide range of products internationally (fashion, beauty, and accessories), as well as experiential venues with its first hotel opening in Paris in November 2022, cafés, spas and hair salons around the world.
Building on its success, ELLE is continuing its development and expanding its licensing activity to the metaverse, thanks to the licensing agreement signed between Lagardère Active Enterprises, an ELLE International entity within Lagardère News, the media arm of the Lagardère Group, which owns the ELLE brand, and the Swedish-based blockchain company Chromaway.
This partnership allows ELLE to increase its revenues and explore a new universe, offering a new way to interact with the brand in a completely virtual setting. It is also a way to reach a different audience from the gamer communities that are attracted to the light and inclusive experience that "My Neighbor Alice" offers. Indeed, ELLE brand's experiences and quests will be integrated into the open-world metaverse game "My Neighbor Alice" from ChromaWay's Antler Interactive Studios.
"My Neighbor Alice" is a Web3 game where players gather resources, create items and a new virtual community. This fun and welcoming game allows you to own your virtual land and even trade NFTs with other players.
As the first brand partner in the "My Neighbor Alice" game, ELLE is amplifying the off-game experience with a first collection of the brand's NFTs. Players will discover a dedicated ELLE territory during their journey of exploration. A key element will be the ELLE Café, customized to fit the game world. The game will provide players with activities to complete that will educate them on the values shared by ELLE and "My Neighbor Alice".
As a reward, players will receive special bonuses for creating the ELLE NFT, inspired by ELLE Wonder Collection.
This virtual collection entitled "Mots d'Amour", which includes furniture and clothing, will be sold on the OpenSea platform from May 26th and will offer never-before-seen digital interpretations of the brand that players can use in game for their avatars and their lands.